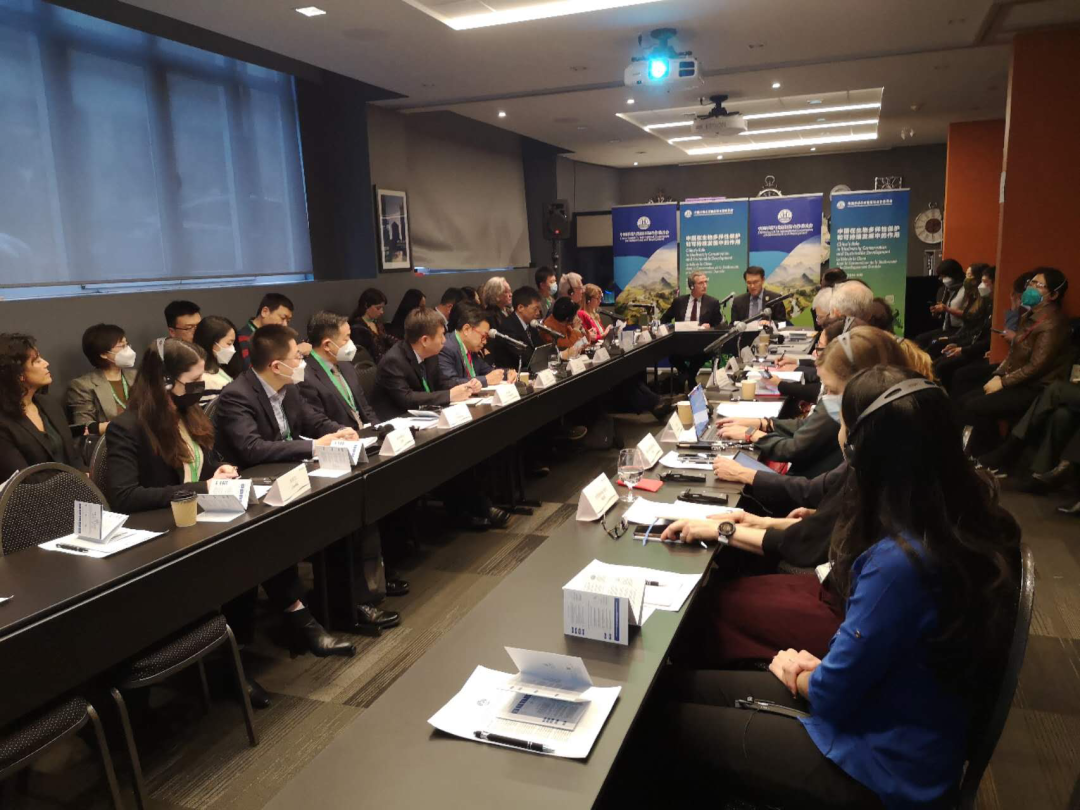 On December 14th, a seminar themed "Supporting the post-2020 Biodiversity Conservation" was hosted by the China Council for International Cooperation on Environment and Development (CCICED) in Montreal, Canada. Mr. Zhao Yingmin, Vice Minister of the Ministry of Ecology and Environment and Secretary General of CCICED, presided over the meeting and delivered a speech.
Mr. Zhao expressed gratitude to the participants for their persistence on the principles of "Building a community of all life on Earth", their insights on COP15 and the Post-2020 Global Biodiversity Framework (hereinafter referred to as the "Framework") and the vision of global biodiversity conservation, as well as their many practical and implementable suggestions and ideas. He said that he looked forward to the continuous support of CCICED Members, Special Advisors and partners, and their suggestions on China's green and low-carbon development. He also hoped to collect and share China's experience in the field and bring benefits to more countries and regions.
CCICED International Chief Advisor and former President and CEO of the International Institute for Sustainable Development (IISD) Mr. Scott Vaughan delivered the opening remarks. CCICED Members, including CEO of the Nature Conservancy (TNC) Ms. Jennifer Morris, President and CEO of the World Resources Institute (WRI) Mr. Aniruddha Dasgupta, Professor and Director of the Center for Global Commons of the University of Tokyo and former CEO and Chairman of the Global Environment Facility (GEF) Dr. Naoko Ishii, President and CEO of Bezos Earth Fund Mr. Andrew Steer, Board Chair of the Energy Foundation China and Partner of Holland Knight LLP Mr. Zhang Hongjun, Director General of WWF International Mr. Marco Lambertini; and Special Advisors, including Managing Director of Centre for Nature and Climate of World Economic Forum Ms. Gim Huay Neo, Program Director of China and Southeast Asia, Sequoia Climate Fund Mr. Sze Ping Lo, Regional Director of Programmes for Asia of ClientEarth Mr. Dimitri de Boer, Southeast & East Asia and Chief China Rep, Children's Investment Fund Foundation Mr. Lei Hongpeng; and Director of the Environment Directorate of OECD Ms. Jo Tyndall, Executive Vice President for Impact of the Environmental Defense Fund (EDF) Ms. Angela Churie Kallhauge, gave guest speeches. More than 70 guests from the CCICED Special Policy Studies teams and partners participated in the event.
This Seminar was the first in-person event organized by the CCICED overseas since the outbreak of the COVID-19 pandemic. Based on the research of the CCICED, the event invited partners and stakeholders to share views on important guarantees for the rapid and effective implementation of the Framework, such as technical support, resource mobilization and international cooperation. Discussions and exchanges held on the protection of biodiversity and other environmental and developmental agendas will contribute to the High-level Segment of the second part of the COP15 conference, which starts on December 15th.
During the event, Mr. Zhao Yingmin also met with Assistant Deputy Minister of Environment and Climate Change Canada Mr. Stephen de Boer, CCICED International Chief Advisor Mr. Scott Vaughan and CCICED Special Advisor, Executive Director of the World Economic Forum and Global Director of the Center for Nature and Climate Ms. Gim Huay Neo.