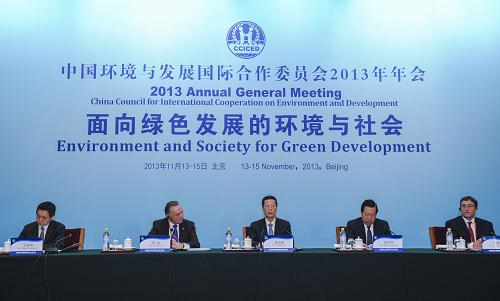 Zhang Gaoli, Vice Premier of the State Council and Chairperson of China Council for International Cooperation on Environment and Development (CCICED), attended the Opening Ceremony of CCICED 2013 Annual General Meeting (AGM) and met representatives of international council members attending the AGM at Diaoyutai State Guesthouse in Beijing on the afternoon of November 13.
Zhang said that, as the world's largest developing country, China attaches high importance to environment and development issues and incorporates resource conservation and environmental protection as a basic national policy. China adhered to protecting the environment in the process of development and developing in the process of environmental protection, and has continuously made new progress. In the future, China will consolidate the philosophy that protecting and improving the ecological environment is protecting and improving the productive forces, and more consciously promote green development, circular development, and low-carbon development and incorporate ecological progress into the efforts to realize modernization and build a beautiful China.
Zhang stressed that protecting the environment must rely on institutions. According to the deployment on deepening ecological reform made at the recent 3rd Plenary Session of the 18th National Congress of the Communist Party of China, China will accelerate the establishment of a complete ecological institutional system, improve the system for property rights and use control of natural resource assets, delineate the ecological red lines, implement the paid use and ecological compensation system, and reform the eco-environmental protection management system. These actions are of high significance for promoting the harmonious development of man and nature and creating a new pattern for modernization.
Zhang added that CCICED has played a positive role in promoting China's economic development and environmental protection in the past more than 20 years by conducting in-depth study on environment and development issues and putting forward a number of important policy recommendations. As the new CCICED Chairperson, he expressed the hope to work with CCICED council members to make new contributions to the sustainable development of mankind through this constructive communication platform for international cooperation and mutual sharing.
Mr. Peter Kent, CCICED International Executive Vice Chairperson noted that the international community was impressed by China's efforts and achievements in constructing ecological civilization. CCICED international members are willing to contribute advice and recommendations for the further progress of environment and development in China. (Source: http://www.gov.cn, November 13)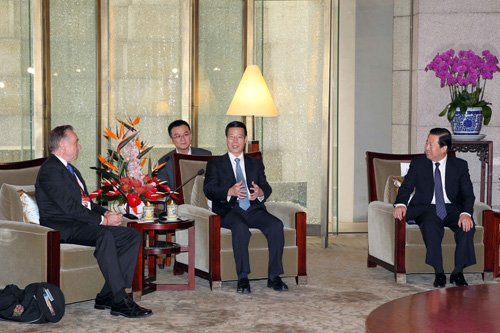 Vice Premier Zhang Gaoli Meets Representatives of International Council Members