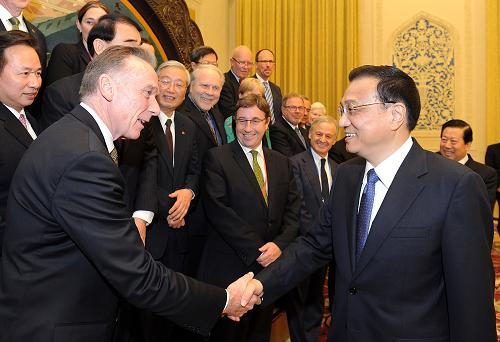 Premier Li Keqiang met and talked with the international council members and delegates attending the 2013 Annual General Meeting (AGM) of China Council for International Cooperation on Environment and Development (CCICED) in the Great Hall of the People on the afternoon of November 14.
Premier Li welcomed the council members and delegates attending the 2013 AGM, and appreciated their concern and support for the environment and development of China, thinking highly of their efforts and constructive role.
Mr. Peter Kent, CCICED Executive Vice Chairperson and Member of Canadian Parliament, introduced the recommendations on China's environment and development proposed by the 2013 AGM. Mr. Achim Steiner, Under-Secretary-General of the United Nations and Executive Director of United Nations Environment Programme, Mrs. Kristalina Georgieva, European Commissioner for International Cooperation, Humanitarian Aid & Crisis Response, and Mr. Jim Leape, Director General of World Wide Fund for Nature, shared their views and recommendations on promoting ecological progress, environmental protection, and the global green development. Premier Li conducted in-depth exchanges with the delegates.
Li noted that China is in a critical stage, and continuous healthy economic development can only be achieved through transformation and upgrading. The purpose of our development is to serve the people. Amid the increasing demand for environmental quality, environmental protection has been highlighted as an important livelihood issue. The Chinese Government attaches high importance to coordinating and balancing development and environment, and seeks to better protect the environment while pushing ahead continuous economic development.
Li made it clear that the new Government explicitly called for decentralization to create a fair competitive environment for enterprises, and for implementation of pollution prevention and monitoring measures to control pollution in an open and transparent manner, with more reliance on market forces.
Li stressed that energy saving and environmental protection industries have a huge market in China and could become the pillar to economic development. China encourages private and social investors in this field, and will promote energy-efficient and environment-friendly products and infrastructure to the world.
Li added that the Earth is the only home to mankind. China would like to strengthen international cooperation with other countries, exchanging ideas as well as technical and industrial cooperation, and to promote ecological progress with joint efforts. It is our hope that you can continue to contribute valuable recommendations on the environment and development of China.
Mr. Kent and others added that, in recent years, China has attached high importance to ecological progress, has been committed to promoting environmental protection and green development, and has thereby achieved favorable results in pollution control. They expressed the willingness to expand cooperation with China and make positive contributions to the green development of China and the world. (Source: http://www.gov.cn, November 14)