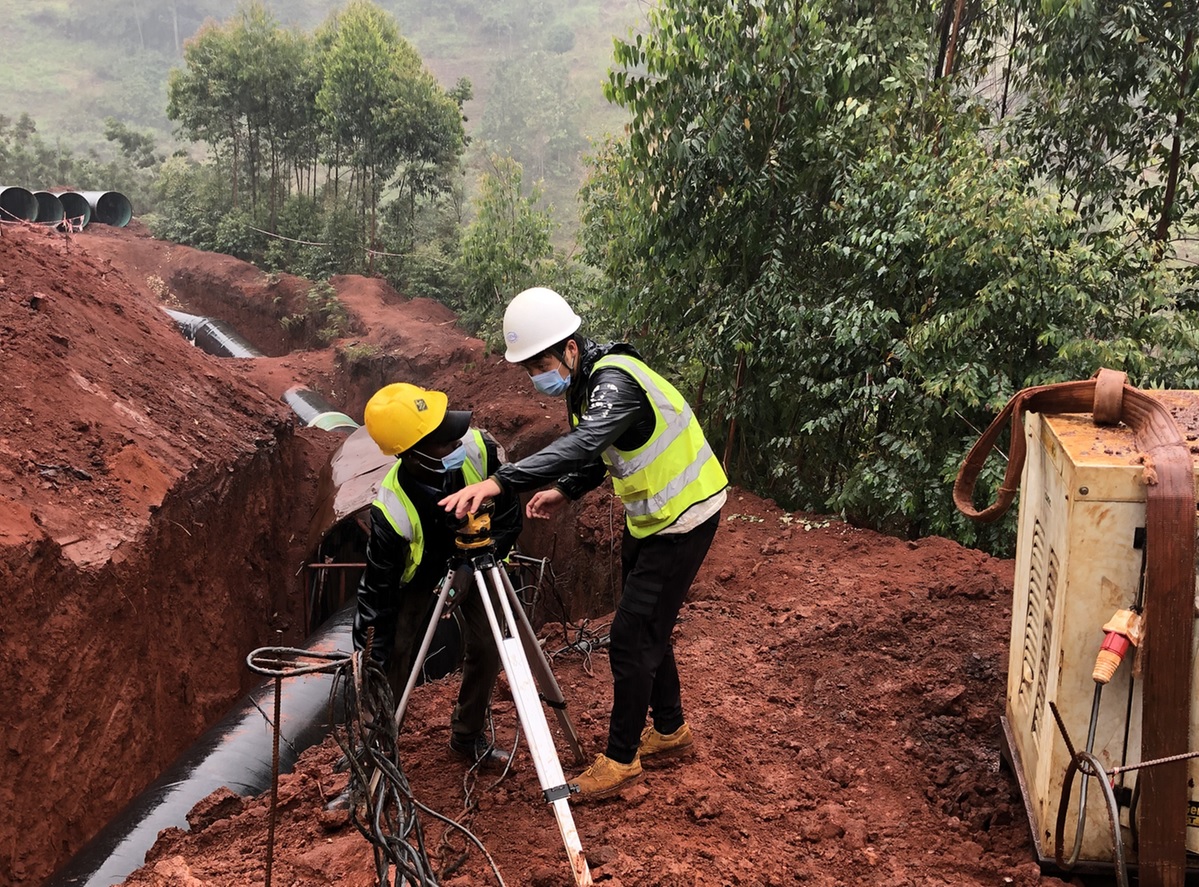 A Chinese engineer (right) with Beijing-based China Construction Second Engineering Bureau instructs a local employee at a bulk water supply pipeline construction site in Nairobi, Kenya, in 2020. [Provided to China Daily]
China has made marked progress in building a green Belt and Road Initiative and will make consistent efforts to tap its potential to promote low-carbon transition worldwide, said Zhao Yingmin, Vice-Minister of Ecology and Environment.
He made the remarks at a forum themed "Building a Green BRI Together to Boost Global Green and Low-Carbon Transition" on Thursday. The forum was held on the sidelines of the annual general meeting of the China Council for International Cooperation on Environment and Development.
As a high-level think tank providing consultation to the Chinese government, the council established in 1992 is now chaired by Vice-Premier Han Zheng.
Zhao noted marked progress in promoting green BRI development since the initiative was launched nine years ago.
For example, China has established an increasingly strengthened policy system to make the BRI green, he said, citing a guideline jointly issued in March by four government bodies, including the ministry and the National Development and Reform Commission.
The guideline aims to see Chinese enterprises involved in the BRI markedly beef up their capacities in promoting green development by 2030. By that time, the country will also see an increasingly improved system for environmental risk control in overseas projects.
In January, the ministry, together with the Ministry of Commerce, also updated a guideline on environmental protection in overseas operations. It requires Chinese companies to take an environmentally friendly approach through the entire life cycle of their projects.
The January document was issued as a guide for enterprises to "implement the philosophy of ecological civilization", and "promote green and high-quality development". Ecological civilization is a concept promoted by President Xi Jinping for balanced and sustainable development that features harmonious coexistence of human and nature.
China has also deepened pragmatic cooperation in energy transition with BRI countries, the vice-minister said.
Following sustained endeavors to strengthen international cooperation on renewable energy, China has seen its photovoltaic industry currently contributing to 70 percent of PV modules of the global market, he said.
"In recent years, the country's investment in renewable energy projects in countries and regions involved in the BRI has kept growing," he said. "With the implementation of a batch of green, low-carbon and sustainable clean energy projects, China has proactively helped needy countries and regions promote the application of green energy technologies."
China has offered training programs to 3,000 officials and technicians in posts related to environmental protection and climate change from about 120 developing nations, Zhao said.
With 29 BRI members agreeing to take part in South-South cooperation to tackle climate change, China has provided materials and jointly built low-carbon demonstration zones to help developing countries ramp up their capabilities to cope.
Facilitated by a BRI big data platform for environmental and ecological protection and an environmental technology exchange and transfer center, the country has also made consistent efforts to promote the sharing of green, low-carbon development information among BRI countries and the application of environmental technologies, he added.
The vice-minister said China will ramp up cooperation on green BRI development in some key sectors such as green energy and financing. Efforts will be made to enhance BRI countries' capabilities in green financing to help them realize their low-carbon development goals.